For a fifth year, Lazorpoint is proud to be recognized as one of the 2014 NEO Success Award winners by Inside Business Magazine. As a previous winner in 2008, 2009, 2010, 2013 and now 2014.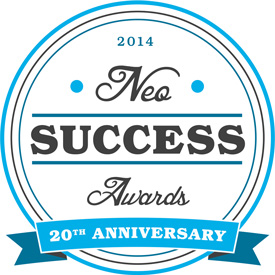 Lazorpoint delivers the peace of mind that comes with strategic IT guidance, systems and solutions. They work with mid-market CEOs as it relates to their information systems by providing a PointMan with vision and leadership. Everything flows from this single PointMan, who's dedicated to providing strategic vision, IT leadership and relentless service. They resolve IT scenarios using a broad range of capabilities in three proven phases: Think, Build and Run.
Established in 1995 as a way to showcase the success of business in our region, the NEO Success Awards program annually recognizes the top-performing companies in Northeast Ohio. NEO Success Award winners reflect our region's determination to expand and revitalize its economic status. The NEO Success Award is unique in its combined measurement of business success in sales, growth and profitability. The March/April 2014 issue of Inside Business will feature a list of the NEO Success Award winners.
Dave Lazor, Founder and CEO of Lazorpoint, says, "It's a privilege for us to be included for a fifth time among these other great companies in Northeast Ohio. We're only as good as our team members, and we are so grateful to have high-performers who are relentless in their commitment to our clients!"