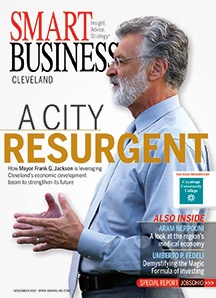 Earlier this month, Dave wrote an article that was published in Smart Business Magazine called "When, how to expand your leadership team with a company senior leader". In the article, he talks about our choice to hire our new COO, Russ Klein.
Russ was formerly the Assistant VP of Quality Assurance and Training at Safeguard Properties. We believe that Russ can and already has begun to make an impact at Lazorpoint by constantly learning about what we do and how we do things, and suggesting ways to do them better. His previous responsibilities around driving service quality, and continuous improvement in all aspects of the business are a few of the many reasons why we decided Russ was the best fit for Lazorpoint.
Check out the article to learn more about when and how to add someone to your leadership team in last month's issue of Smart Business Magazine, or at SBN Online. Sweetening your C-Suite may be the way to sustainable growth and better performance.