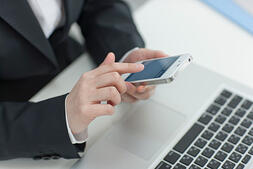 As a business owner, you know that your employees are increasingly on the move. They may be in the office one day, work from home another and be uploading a quarterly report from Beijing the day after that. It's all possible thanks to the miracle of mobile technology.
But mobile technology in the workplace is more often being used on employees' personal devices, such as smartphones, tablets and laptops. The idea of a company-purchased desktop computer is quickly going the way of the dinosaurs.
Instead, many companies are embracing a new trend: BYOD, or Bring Your Own Device. Rather than the employer paying for a new phone, tablet or laptop, the employee purchases their own, according to preference and taste.
Our research has shown that a BYOD policy adds up to 240 productivity hours a year per employee. That savings is too substantial to ignore, and yet, BYOD also has some drawbacks for your business IT infrastructure.
Let's take a look at some clear pros and cons, along with other challenges that lie on the horizon for workplace mobile technology:
PROS & CONS
Pro: Increased Productivity
Letting employees use personal devices means more work hours in more places. Whether staying home with a sick child or waiting at the airport on a business trip, employees don't have to be sitting in front of a desk to be productive. Personal devices let the employee "clock in" and add value to your bottom line from anywhere at any time.
Con: Data Ownership Issues
When an employee leaves your company, how do you ensure they don't keep any business information on their personal device? A company-owned device would have to be returned, but wiping out your business data (and not their personal data) proves a sticky situation when you don't have device ownership.
Pro: Decreased Hardware Investment
If every employee furnishes his or her own device, your capital expenditures greatly decrease. Mobile technology means less work for your purchasing department and more pixels on your bottom line.
Con: Increased Security Investment
Back to device ownership: What happens when a high-ranking employee loses their laptop full of sensitive data? Workplace mobile technology means you need better security on every mobile device (personal or company-owned) to reduce security breaches while employees are on the move.
Pro: Decreased Support Costs
With a BYOD policy comes the implicit agreement that it's their responsibility to call the supplier when device issues arise. This means less cost in time and money for IT management staff.
Con: Decreased Support Productivity
On the flipside, having the employee deal directly with IT support may lead to productivity loss. And if they don't upgrade or secure their systems to an established IT standard, then they may be costing you more in time than the personal device saves.
CHALLENGES & OPPORTUNITIES
Now that you know some of the more clear-cut issues in dealing with personal computing devices in the workplace, let's take a look at other challenges (and opportunities) that exist in workplace mobile technology:
Upgrades
•Stay current with software versions to ensure the latest devices (which your tech-savvy employees utilize) connect seamlessly with everyone else in the office.
•Plan ahead on upgrades too: Make sure your latest upgrade works on everyone's device before you license that new software.
•Flexibility is king. If your company is able to work without standardization in some areas, then embrace the fact that sometimes different platforms may not agree.
Adaptability:
•In order to integrate each employee's mobile device securely simply and consistently, plan ahead for the innovative technology solutions you'll need.
•Consider Virtual Desktop Infrastructure (VDI) to gain access to more traditional applications on new devices in a consistent way.
Cloud Compatibility:
•Consult with your IT management for potential opportunities to leverage cloud-computing solutions across your employees' personal devices.
•The right solution may not be all-cloud but could include on-premise hosting already in your IT infrastructure as well.
Printing:
•With so many devices, operating systems and software applications, make sure employees are able to print everything they need (and you need) without having to call IT support too often.
BYOD is not a policy fit for every business, but consider the impact of mobile technology on your existing IT infrastructure before you're caught in an upgrade or security tangle. Mobile technology and the rise of personal devices in the workplace are two trends that aren't disappearing anytime soon, and visionary business leaders leverage the strength of these opportunities to drive future business growth.
To learn more about how Lazorpoint designs innovative technology solutions fit for your business IT infrastructure, click the button below.