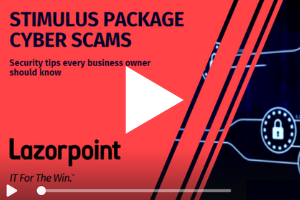 It is not surprising that data security breaches are spiking. Few situations offer as many opportunities for cybercriminals as a global pandemic. The most recent flavor of COVID-19 related cybercrime feeds on confusion around the recently-approved Coronavirus Aid, Relief, and Economic Security (CARES) Act.
The CARES Act includes essential support for small- and medium-sized businesses in need. As businesses work with their banks to get their CARES loans approved, cybercriminals are cashing in. Watch this 2 minute video providing key tactics to keep your business secure from stimulus package scams.
As businesses around the world work to rapidly shift strategies amidst COVID-19, Lazorpoint will be providing IT insights designed to keep your business secure and working smoothly.
Make sure your company is protected today.
Resources