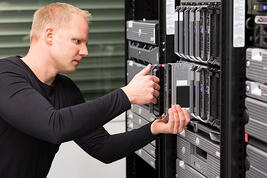 Not all managed IT services are created equal. If you read our previous blog post about managed IT, you might be wondering what other differentiating factors you should consider to ensure you select the right IT partner for your business.
In short, what differentiates just another outsourced IT provider and a true technology consultant partner? And ultimately, what impact does a technology consulting partner make in terms of business growth?
One factor answers both questions: The services offered by a technology consultant are meant to grow your business. After all, only the best partners provide the growth your firm seeks.
On the surface, most technology consulting firms don't appear all that unique – and neither does the difference they make for your company's bottom line. However, once you dive a bit deeper, these three main differentiators emerge:
Differentiator #1: Support Vs. Partner
There are a lot of big technology vendors out there: Microsoft, HP, Dell, Apple and many others. These vendors consistently send out hardware or software updates and changing specifications.
While some managed IT firms might provide support for these evolving technology solutions, only technology consultants proactively prepare your business for these vendor product updates. The right technology consultant should meet with you weekly to discuss new technologies, create solutions to meet evolving client needs and procure demos to test them in-house.
The right technology consultant should be a partner in your business. Instead of just being someone who comes to fix your technology when it breaks, they should be proactively monitoring and upgrading your systems before minor fixes become a critical issue.
Differentiator #2: Self Research Vs. Professional Research
As your business evolves and the IT environment constantly shifts, technology research and development becomes a more costly and time-consuming practice.
What are the must-haves and leave-behinds? Which solutions match well with your business needs? How are you going to fit these upgrades into your budget? Running your business is difficult enough without having to answer all of these questions and do the research yourself.
In terms of cost-effectiveness, hiring the expertise of a technology consultant to stay on top of industry-specific technology trends for you is more affordable. With all the technology that's growing and changing, you aren't able to learn it all yourself – you need a team of IT leaders to help.
Differentiator #3: Running Your Company Vs. Growing Your Company
Even managed IT services that promise partnership or in-depth industry research might not pass this final test between simple outsourced IT and true technology consulting: the difference between keeping your company simply running or driving your business toward growth.
Leverage the expertise and leadership of a technology consultant that ensures your company is using the newest, fastest and most efficient technology relevant to your business growth.
Selecting the right IT partner for your business should come down to one key test: what impact the potential partner makes on your business growth. While many firms operate on a break-fix support mentality, the right technology consultant provides proactive vendor partnership, in-depth industry research and a mindset focused on growing your business far into the future.
Wondering what questions you should ask a potential technology consulting partner? Download our free report: "12 Questions To Ask A Potential Managed IT Services Partner" and keep your company from hiring a break-fix support provider.