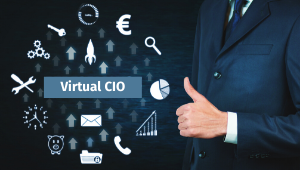 Your business uses technology for everything. From email to point of sale to bookkeeping to communication - technology is involved. The problem is, technology, or IT, isn't what you do. It's what you use, but not what you like to manage.
Running a business is hard enough, let alone managing all the technological pieces. In today's world, IT is integral to the success of a business, but too often, business leaders wear the hat of a Chief Information Officer, among all the other hats they wear, and it causes their business to suffer.
What you need is a Virtual CIO (vCIO).
A vCIO bridges the gap between business goals and the IT infrastructure necessary to help you reach those goals. A vCIO does all the same work as a traditional CIO but at a fraction of the cost and is often a better fit for small-to-medium-sized businesses.
In order to set your business, and a vCIO, up for success, you need to consider the following:
Define your business goals and growth trajectory for the next 2-3 years to determine your capacity for hiring a vCIO.

An IT Manager can help put a bandaid on basic IT issues, but you'll want a vCIO if you're planning for growth.

A great vCIO can help with business planning, technology expertise, security, and disaster management - so place a great deal of value in a candidate's experience when selecting a vCIO.
TRAITS OF A GREAT vCIO
When searching for a vCIO you need to consider their strengths in the following areas:
Business Planning
A great vCIO needs to help you plan and budget for your future technology needs to ensure that the business grows with the customer.

They should creatively think about ways technology can help achieve and support the business plan while staying flexible enough to change direction as your business experiences new and unique challenges.
Technology Expertise
Technology can be expensive and you don't want to find yourself attached to outdated technology or anything that doesn't help solve your long-term business goals.

A great vCIO is forward-thinking and on the cutting edge when it comes to understanding what technologies are coming and how they can provide your business with a competitive edge.
---
ADDITIONAL RESOURCE:
General Electric used strategic IT planning to transform the airline industry and their bottom line.
---
Security & Disaster Planning & Management
Cybersecurity is crucial for your business. A great vCIO will help create and drive a culture of security awareness and actively manage any security situations that arise.

A vCIO

is not

just a great technology investment for businesses that are ready for it but a great leadership investment that can help propel your company to the next level.
If you are interested in learning how a vCIO can transform your business, talk to a Lazorpoint expert. Our Lazorpoint experts We can help you better understand how a vCIO can provide you with the expertise needed for your business to reach new heights.