October was a busy month at Lazorpoint! Between taking on a few new clients, starting and completing some project work for existing clients, and keeping their business' running smoothly, we still have time to spend together and celebrate the promotions, birthdays and anniversaries this month!
Rising Star Academy Gala
Earlier this month, we sponsored the Sky Full of Stars Gala, put on by the Rising Star Academy. The Rising Star Academy is a conductive education center that helps children with motor disabilities reach their full potential. This year was a 10-year anniversary celebration at the Renaissance Hotel in Downtown Cleveland; the venue and food was wonderful, and the program was even better. During the live auction alone, tens of thousands of dollars were raised to support their future growth.
Thanks to Dave and Mary Lazor, Ashley Hazlett and Dan Kraus, Jen Jurgelis and Andrew Westerfeld and Tony and Sharon Ruff for attending!
Trick-or-Treat
Although we didn't dress up in costumes, the Lazorpoint team still got in the Halloween spirit this week. For the second year in a row, we participated in a little event we like to call Cubing for Candy. Several times throughout the day we played the song "Monster Mash" over the loud speakers and trick-or-treated around the office.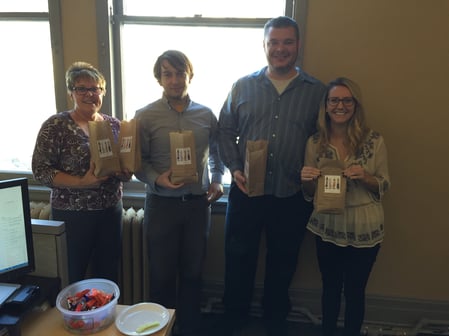 Cavs Home Opener
Lazorpoint bought Cavs season tickets this year to entertain clients and our team members. One of the games in our package happened to be the home opener! Jen Jurgelis, Clay Archer, Andy Calori and Bob Steiner had a great time watching the Cavs beat the Heat on Friday night.
Moving Up the Career Ladder
We also had a few exciting team member promotions announced this month. Harmon Tam, our former Service Desk Manager, has been promoted to Managing Consultant, and Tony Ruff, our former Infrastructure Engineer II, has been promoted to Infrastructure Engineer III.
As a Managing Consultant, Harmon will serve as an advisor and thought leader. He will provide support to a variety of team leads and executive leadership, as well as providing guidance on most aspects of our delivery operations. Harmon will also work as a team leader on special projects and assignments that will result in operational improvements which create better client experiences.
Tony has been promoted to an Infrastructure Engineer III. In this role, he will work as an escalation point for our service desk, as well as a project engineer for our clients. He'll work closely with our PointMen to create solutions that will improve the overall infrastructure performance for our clients.
Congratulations to Harmon and Tony! We're so grateful for your commitment to the team and your drive to achieve more every day.
Happy Birthday To You…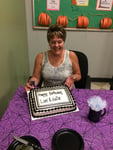 This October we celebrated two birthdays: Julie Buttle's and Lori Zoller's! Julie is our Office Coordinator, and Lori is our Office Manager. To celebrate we had a delicious chocolate mint cake at our Monthly Team Meeting. Happy Birthday, Julie and Lori!
Another Year in the Books
Not only did we celebrate Lori's birthday, but her Lazorpoint work anniversary as well. We are so happy to celebrate seven long years of service from Lori, even after she moved to Reno two years ago. When your Office Manager is this good, 2,242 miles doesn't mean a thing. So glad to have you on the team, Lori!