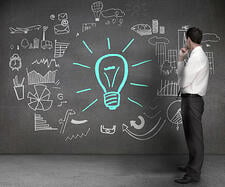 It's the technology strategic planning season, when most companies contemplate future direction and define objectives around revenue growth, mergers and acquisitions, cost reduction and customer satisfaction.
Q: Who's responsible for bringing these plans to life for the enhancement of different business units?
A: IT.
As business departments – marketing, sales, human resources, operations – consider their contributions to future business growth, IT must weave itself into these planning conversations and provide the strategic guidance required to achieve any new company objective.
You Can't Plan For It Without IT
As technology comes to the forefront of your business's 2015 strategic planning, it's essential to use an efficient organizational model as the basis for your plan. At Lazorpoint, we call this the PointProcess, and it involves three steps: Think, Build, Run.
Think: Before diving into the technical details of your infrastructure, take a step back reflect on your business strategy, short-term and long-term goals. Conduct an assessment of your people, processes and technology to develop an IT roadmap that will help you reach those goals.
Build: Once a roadmap is established around your organization's goals and strategy—including approximate timing of when these initiatives will start and end—begin executing this roadmap. This isn't just about building out the technology but ensuring the people and the processes necessary are in place to achieve your goals as well.
Run: When those new systems are built and up and running, you need to proactively maintain their health and appropriately respond and resolve unforeseen or unpreventable issues. To consistently meet changing customer and employee demands, create a mechanism or process to regularly review your system and maximize system availability and performance.
In this first blog of our series, we're focusing on the Think stage of the Think, Build, Run organizational model to help your business begin planning. The next two blogs will detail the Build and Run stages to focus your technology planning process.
Think: Business Technology Planning
When IT is tailored to your exact needs, it helps your business run better and capture more opportunities. There are three steps to successfully develop an IT strategy that aligns with your business goals and objectives:
1. Identify business goals that can be accomplished with IT.
Take a look at your overall business strategy. How can IT help achieve your goals? How can it increase the amount of orders you ship, deals you close, and time on your hands? How can it measure your business performance and if it is up to your standards?
2. Interview employees who hold different roles throughout your company.
Question your employees about their productivity, what they wish they had, what they wish was better and what they would want to keep. As their job and roles evolve, what will they need to be more productive, connected and engaged with their work and the business?
Understanding your customers' day-to-day activities goes a long way toward determining what works or alternately the hassles they face and what keeps them up at night. This insight enables you to identify opportunities to ease their pain.
3. Assess your current state.
In order to base your strategy around people, processes and technology, you need a full system assessment to see how things are working. Does the functionality of your current technology simplify processes while matching your team's needs? Do you have the right amount of server space? How secure is your company information?
The "Think" stage of technology planning helps round out your strategy. It not only gets your technology on track to work for your users and your business, but also avoids productivity- and profitability-depleting situations.
Stay tuned for the next blog in our series, where we'll discuss the second step in your own Think, Build, Run strategy to help you start 2015 on the right foot.
Schedule time with a PointMan to discuss the advantages of leaving the "break-fix" IT mentality of 2014 behind in exchange for a proactive technology strategy that's better suited for 2015 and beyond.