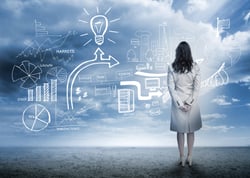 In any business, innovation is the thin imaginary line between victory and defeat, between growth and stagnation, between a satisfactory year and a great year.
A 2006 study by the American Management Association showed that the top reason business leaders pursue innovation is in response to customer demand.
Your customers or clients are the lifeblood of your business. Innovations that improve their buying or service experience are critical to the long-term success of your business. But paired with unguaranteed outcomes and higher levels of uncertainty, innovation projects are often pushed back or never implemented.
Faced with the responsibility to innovate, several behavioral traps can stifle ideas and weigh you down. They usually pop up when big decisions need to be made, so learn how to spot and avoid them early.
Recognize these three common traps and take any steps necessary to avoid them.
1) The "Loss Aversion" Trap
Traditional strategic planning emphasizes acquiring and using resources with minimal expense and maximal revenue. When it comes time to prioritize and assign, many business leaders see new, uncertain initiatives with no short-term ROI as "losses". Because of this tendency, they are pressured to focus on still important but short-term matters instead of innovation projects.
Since our brains are wired to seek short-term reward, it's easier to fall into this mental trap than you think.
Fortunately, there's a solution. Create an "innovation budget," factor it into your business strategy and commit to investing the resources and time necessary for it to work. Remember, your people are your greatest asset, so tap your best talent and get advice on goals, milestones and processes. Finally, to lower the level of uncertainty and drive the direction of your innovation projects, conduct internal and external research to capture employee, customer and stakeholder information to explore unmet needs and wants.
2) The "Choice Overload" Trap
David Packard (of Hewlett-Packard fame) said, "A great enterprise is more likely to die of indigestion of too much opportunity than starvation of too little." If you have too many avenues to explore, it's easy to get stuck at the corner and disregard innovation that moves you forward.
In IT, this is especially pertinent, as new technologies offer business leaders an unprecedented variety of solutions to pursue. To avoid choice overload: research suggests placing smart constraints on a project to focus it and win the competition for business and budget resources.
To do this, brainstorm the pains affecting your employees, customers and prospects to prioritize where to focus innovation projects and what problems they must solve. Focus on solutions that address the most pressing and impactful issues, and don't lose sight of them in the metaphorical crowd.
3) The "Life Is Good" Trap
If your business experienced an extremely successful year – or maybe a few years – it's tempting to ignore innovation in favor of staying the course and continuing what works. But, keep in mind that golden ages never last forever. Remember Borders, the slow-to-innovate book retailer that paid the ultimate price? While competitors Barnes & Noble and Amazon invested in the burgeoning e-reader, Borders tried to make its traditionally successful model work and, sadly, failed.
If your business is doing well, it's time to innovate, not maintain the status quo. Consider using some of your extra capital to bring new ideas to life and stay ahead of the competition. Build a culture that celebrates and rewards innovation, and hire smart, enterprising, creative people that bring fresh perspectives and approaches to the table.
Whether you're designing a winning IT, sales or marketing strategy, never discount the value of innovative thinking in ensuring future business success. More important, don't fall into these three traps and find yourself playing catch up while your competitors soar. With a laser focus on innovation and a passionate team behind you, it's easier to succeed than fail.
Ready for some innovation-grade business IT? Schedule a free, 30-minute consultation with a PointMan™ and find out how smarter IT improves efficiency and drives revenue.