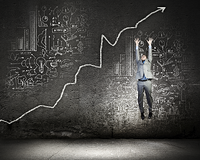 When a small business gets off the ground, operations and processes are relatively simple. There's very little complexity or sophistication. And simple is often better. It typically gets the job done more affordably. But as your company grows, the size of your team grows with it. Going from one salesperson – maybe you – to an entire sales team calls for more structure. Sales CRM software is the solution.
Sales management software provides solutions to several common pains felt by growing companies whose efforts are becoming increasingly inefficient:
You need someone or something to manage, lead and hold people accountable.
You need your management and your sales team group – including yourself – to evolve your way of thinking.
You need a way to measure how effectively you are executing your marketing and sales strategies. You need a real-time, accurate view into the key performance indicators of your sales team's success. If the KPIs are off track, insight into what must change to achieve your desired outcomes is essential.
You need to continue to grow and strengthen your sales and marketing approach. Better management of your leads and customers and their stages, orders and market segmentation will allow you to reach them at the right time with the right information, offering better (and warmer) opportunities for more sales.
CRM systems address these common pains and needs of growing businesses. But simply purchasing sales management software isn't a remedy for your company. Successful CRM implementation is the difference between putting your business on the fast track and eating away at this year's bottom line for marginal improvements to your efficiency.
Companies implementing new systems – new people, processes and technology – for the first time tend to view such a project as a one-off venture. The reality is that this change is an ongoing and continuous journey.
When IT consulting firms implement sales CRM software, they do not guarantee that your sales team will actually use the new system. After all, sales people tend to be resistant to changing their processes. Their initial day-to-day inefficiencies of learning your solution could cause them frustration. They might react as if everything is the system's fault. But technology is not the problem. User adoption and proper training are.
CRM implementation – or any technology implementation, for that matter – is an interactive process that requires significant resources on a continual basis. Adopting such a system change isn't an exact science. In fact, much of it is an art form. So, expect to think through how you're going to enact this change. Your ability to plan is essential.
After you've implemented a sales system, look for ways to tweak and improve, from both a people and process standpoint. Watch, measure and refine your system of people, processes and technology regularly. Big changes aren't reasonable, of course, but a strong system is always evolving.
Take an R&D-type approach, looking at it as an investment in your company's future, and remember that failure is a key part of the development process. As your team learns from failure and grows, the advantage your sales CRM software provides is increasingly impactful.
To learn about how Lazorpoint designs innovative solutions customized for your business growth and flexibility, click the button below.