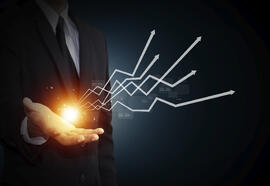 In the ever-changing world of technology, a sound IT strategy is essential to keeping your business IT infrastructure fresh and flexible. With so many technology solutions to choose from – and even more to regularly research – your approach to IT and innovative technology should be calculated and calm, instead of being knocked around by fleeting trends of the industry.
But crafting a rigorous information technology strategy isn't a simple task. You need to first consider your current technology assets and then outline your technology management approach for solid business growth.
When creating the perfect IT strategy for your business, keep these four principles in mind to ensure your business leverages innovative technology solutions to maximize your company's growth:
1. Long-Term Strategy Before Tactics
Many business leaders get distracted by their day-to-day needs for IT support. They focus on the tactics of what technology solution or gadget their business IT infrastructure needstoday, when they should fix their gaze on the long-term practices and strategy that keeps their business relevant and also eliminates IT fires tomorrow.
The first principle of a solid IT strategy is to focus on your long-term approach. Shift your company from a break-fix mindset to a growth-oriented technology strategy. Instead of getting caught up in individual tactics or relying on an IT company for a one-and-done short-term project, build a relationship with an IT partner that drives profitability over the long run.
2. Research for the Future
Staying ahead of the technology curve in your industry requires a consistent investment of time for research. Make your IT explorations a steady habit: research conducted only in a crisis hardly gives you enough time to consider if a technology solution is the right fit for your business. Your IT strategy is only as good as the research you inform it with.
Be sure to research not only trending, innovative technology but also new developments in mobile technology and philosophies in technology management. By constantly examining where your IT infrastructure could improve or upgrade, you reduce your chances of being blindsided by a game-changing innovation. For a fresh perspective on innovative technology solutions for your business, consult with a managed IT services partner that have a breadth of industry experience.
3. Be Detailed About Best Practices
Creating the best information technology strategy for your business requires not only a long-term perspective and consistent research, but also a detail-oriented methodology. As technology continues to evolve and expand, your list of best practices for networks, software, servers, devices and applications should develop and grow as well.
Creating and updating your checklist of best practices fuels your IT strategy by regularly refocusing your efforts away from reactive IT support and towards long-term growth. Not only does this detailed approach extend the life of your business IT infrastructure, but it also provides a competitive advantage since your competitors might not have such an in-depth methodology. Similarly, if you work with an outsourced IT partner, then their checklist of best practices should be just as detail-oriented.
4. Be Proactive, Not Reactive
A reactive IT strategy, in the long run, is doomed to fail. Every business faces a few unexpected technology fires on occasion, but if you only have solutions for those fires and are unable to prevent others from happening in the future, those flames are only going to get bigger.
The idea is to keep your IT strategy proactive. Learn from the mistakes or successes of the past, but keep your perspective future-focused by exploring new integrations of your IT infrastructure, experimenting with innovative technology solutions and evolving your plan as new technologies emerge. A technology management partner should be just as proactive in their approach toward your business, consistently offering you new product demos, anticipated upgrades and veteran advice on new technology solutions.
While the details of your IT strategy continuously shift and grow, these four principles remain constant. By acting on these principles for your IT strategy, your business IT infrastructure doesn't just survive within the current commotion of technology change – it thrives.
Looking for an IT partner that helps you craft a winning IT strategy for your business? Click below to read this report from Lazorpoint on the essential questions you should ask a potential managed IT services partner before you sign on the dotted line.