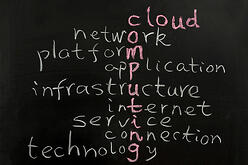 The world of information technology is always changing – and rapidly. One trend that has gained recent traction with businesses is cloud computing, or cloud-based IT. Nearly everywhere you read, watch, or listen someone in the technology sector mentions moving a business to "the cloud."
But is cloud-based IT the answer for your business? Does migrating away from in-house hardware to cloud servers really help you save on your technology management costs?
The answer is maybe.
Remember the dot-com boom back in the 1990s? Investment in online businesses soared, stock prices rose and there was a lot of hype and excitement about how brick-and-mortar businesses were dead. But then the bubble burst.
Certainly the introduction of ecommerce has changed the world (and so has cloud computing), but in the same way that ecommerce was not the one-size-fits-all answer, neither is cloud computing.
As of today, cloud-based IT is not a silver bullet for all businesses. Cloud-based IT technology is similar to older, in-house server-based solutions. The key difference is how you purchase and access it. In the past, businesses used to own their own servers, and with the cloud, businesses now subscribe to certain services hosted elsewhere, which may include storage, software or other business platforms.
Here's a brief overview of some advantages and disadvantages a business realizes from cloud-based IT:
Advantages:
For small businesses (especially start-ups), cloud computing is a relatively cheap way to access superior technology and software that was previously out of reach financially.
When piloting or prototyping a new idea, businesses are able to test the concept quickly without many capital expenditures. If the idea takes hold, then investment in hardware is justified.
Externally facing systems such as ecommerce sites or customer service portals require the high availability of the cloud, and cloud-based IT allows them to rapidly scale their processes up or down to meet changing demand.
For IT consultants, the cloud offers affordable development and testing platforms for critical production systems.
Disadvantages:
Businesses that are familiar with on-premise computing may lose control of servers, availability, performance and gaps in functionality. The cloud's overall reliability varies more widely.
Cloud-based IT also comes with the risk of a "noisy neighbor" – another user's virtual machine on the same physical server that may decrease your virtual machine's performance.
Security may also be a concern for some businesses when critical data is hosted outside of company walls.
For your business, consider how these advantages and disadvantages of cloud computing could affect your technology management before you move your company to a cloud-based IT model.
Here are some additional key questions to ask yourself:
What's your industry? Would a cloud migration enhance future growth in an industry like yours?
Financially, where are you currently positioned when it comes to the depreciation of current IT assets and systems?
What is your current infrastructure lifecycle? Where are you in that cycle?
What are your uptime and availability requirements?
What are your server scalability requirements?
What are your security requirements?
Would a hybrid cloud solution be a better solution than a full cloud-computing solution?
The answers to questions like these won't be the same for every business. Your industry, your individual business and your future growth plans are all variables in the decision to move toward cloud-based IT.
Simply saying "The cloud is the answer" is a dangerous statement. For many organizations, a hybrid cloud setup is the answer, allowing them to still use current technology that isn't ready to be phased out.
Like any other innovative technology solution, the cloud is just another tool. It has to be used correctly and in the right application to be effective. So don't assume that a cloud-based IT solution is right for your business and its growth goals just because it's the latest industry buzz.
Click the button below to learn more about how Lazorpoint technology consultants look past the hype and design the innovative technology solutions that fit your unique business.