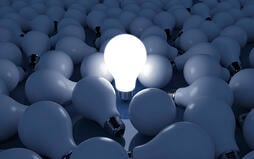 You know that your business information systems are much more than just component parts of your company. The quality of your technology solutions determines the ability of your company to innovate, grow and outperform the competition.
Your technology management is the lever to your company's long-term success. So if you don't have confidence in your technology management, you do not have confidence in your company.
Creative technology management is not the destination, but the journey.
Technology is not meant to be stagnant: Today's best solution is tomorrow's outdated one. This ever-changing nature of technology frustrates many business owners, and their relationship with IT becomes a source of dread and anxiety, as well as a growth-stunting sinkhole of resource depletion.
When it comes to technology consulting for your business information systems, you want the best of the best in managed IT services: the leaders in the field who are on top of the latest, most creative technology solutions to drive your company's growth. Those leaders who dedicate themselves relentlessly to expedient service and who support your peace of mind with open, reliable communication and insight into your company's progress.
Here are two examples of how forward-thinking IT companies implement creative technology solutions:
Developing mobile applications that help

your

core customers grow

their

businesses.

Think outside the box when evaluating ways to leverage technology solutions to help grow your business. Implementing a new technological solution for your organization may not always be the answer to growth. There are ways to provide your customers with innovative solutions that will eventually open doors for increased revenue and increased visibility into the sales pipeline.

For example, a distributor saw that their re-sellers (their core customers) had a difficult time up-selling, cross-selling, presenting information to prospects in a professional manner, tracking the opportunities and following up. So they decided to create a mobile app that would be made available to their re-sellers for free, and that would assist them with the entire sales cycle. The application eventually increased revenue and customer stickiness, as well as gave them greater insight into their sales pipeline.

Leveraging existing off-the-shelf software as foundation for a "custom" application that meets your specific and unique needs.

Why recreate the wheel on the stuff that isn't unique? Instead, identify and leverage the right existing software to support your current processes and platforms.

For example, a professional services firm was hired to manage all elements of a construction project (e.g., making sure permits are pulled, all expenses are in budget and everything in the lease gets done), so they had an app built to track and manage the information. The problem? It didn't work very well. They needed to rebuild it. They were presented with two options: build a new app from scratch or leverage an existing CRM. They choose the latter. After they customized the existing CRM software and evaluated the functionality, they found that the customized product was much more cost-effective, created greater time efficiencies and contained all the data fields they needed, which made the software much more user friendly.
Remember, gaining that competitive advantage is not confined to technology solutions in the "new" and "fresh" camp. Effectively optimizing existing technology sometimes takes more creativity than developing something completely new and innovative.
A creative technology firm lays down its solutions in your company's strategy and goals, and opens up new opportunities with innovative thinking to galvanize your company's growth.
Click the button below to see how Lazorpoint has designed creative technology solutions for countless industries to promote growth and peace of mind.