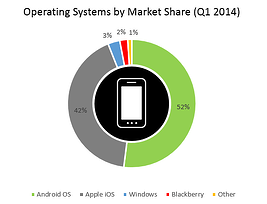 The introduction of the new iPhones is a reminder about how it's easy to get swept up in the hype about the latest models. Because smartphones are such indispensable tools for our business and personal lives, choosing the right one is more important than ever.
Choosing the best service plan, phone, and provider has benefits that can boost your productivity, save you money and improve your quality of life. Whether you want the biggest screen, longest battery life, or the best apps, there's a smartphone for you.
Follow these handy steps before rushing out for the next big thing in smartphones:
Determine which carrier offers the best coverage in your area.
You could have the world's sexiest smartphone packed full with the most useful apps, but it's just an expensive brick without a strong network connection.
Think about where you spend most of your time working. Providers all have coverage maps, but we recommend trusting Root Metrics which independently gathers coverage information for all major carriers.
Broad support for 4G and LTE technology is also paramount. Although you may pay a little more, the speed and quality of the service you get with 4G and LTE is unparalleled, and is worth the investment
Choose a mobile operating system.
Your main choices by market share are Android, Apple iOS, Windows Phone, and BlackBerry. With BlackBerry struggling to keep up, we suggest sticking with either Android, Apple, or Windows.
Android Strengths/Weaknesses
Wide array of hardware options from several manufacturers in multiple sizes
Smartphone makers can easily innovate on top of the software (e.g. Samsung Galaxy S4 and Note 3 can run two apps simultaneously, Moto X responds to your voice without touching the phone)
Interface can be cluttered and difficult to navigate
Apple iOS Strengths/Weaknesses
Best selection of high-quality apps
Most intuitive interface available
Limited hardware options
Windows Phone Strengths/Weaknesses
Easy integration with Office Apps (Excel, Outlook, Word, etc.)
Customizable home screen view
Has only one-fifth of the apps available for Android and iOS
Pick a screen size
Consider the work you do while you're on the go. If you're a salesperson, you may need mobile access to CRM or mainly use your phone for appointment setting and connecting with clients and colleagues. A product developer may need to view documents and sketches, making a phablet a more suitable option than a smaller smartphone.
While the 5-inch+ display of a Galaxy Note or the Lumia gives you more real estate for editing documents, multi-tasking, and leisurely activities like watching movies and enjoying photos, they can be more difficult to operate with one hand, and can be a tight fit for your pockets. If you mainly use your smartphone for more basic functions like calling and texting, and the apps you use aren't limited by a smaller screen, the 4" iPhone 5S or a 4.7" iPhone 6 may be just what you need.
Don't ignore the technical specs.
Processor: the brain of the device. A fast one enables you to open apps quickly for swift multitasking. Don't skimp on the processor to save pennies.
RAM: the amount of memory available on the device. In short, the more RAM the better, because it allows you to open apps from memory and switch between running apps more quickly.
Storage: usually talked about in terms of GB. No one likes to delete pictures after you run out of room, or have to buy more storage later, so opt for as much internal memory as you can up front.
Battery Capacity: don't settle for low battery life. Choose a phone with 3,000+ mAh (milliamp hours), and know that the average phone lasts for 6:46 hours and varies based on usage.
Narrow your choices, and give them a test drive.
Play around with your top picks at the store, and ultimately pick the phone that feels good in your hand, isn't difficult to learn, and will keep pace with the apps, networks and the ever-evolving mobile web.
Make sure your IT department can support your new device.
Your device can't improve your performance if your IT provider doesn't support it. Ensure that your system and team can support your new smartphone to save you the headache of going through the manufacturer for help.