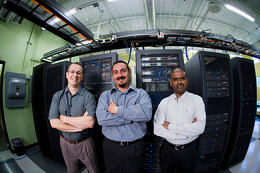 In running your business, you are beset with questions: What do the quarterly sales figures look like? How well are new hires being integrated to the team? When will the new product shipments arrive?
One of the last questions you want to worry about is your information technology – managing it, planning ahead for it and dealing with pesky, day-to-day issues.
Even then, you might be hesitant to hand over your IT operations to a managed IT services provider, asking yourself lots of questions:
Do you really need outsourced IT?
Are outsourced technology consultants right for your business?
How do technology consultants actually help you achieve your vision and your desired growth?
These are good questions. The answers to these questions – and more – lie in finding the right growth-oriented managed IT services provider for your business. Here are the key factors the right technology consulting firm should bring to your business:
Peace of Mind:
If they do their job right, you shouldn't have to ask your managed service provider for IT fixes very often. After all, the right technology solutions should fit your business and your IT infrastructure so well that you rarely need to call support, if at all.
When something does go wrong, though, you want to know that your IT partner is there to fix it and has everything under control. While many managed IT services promise immediate support, make sure this isn't all they promise: the best technology consultants do more for your business than just fix it when you break it.
By providing peace of mind, a managed IT services provider lets you get back to your business and focus on growth.
Low-Level IT Maintenance:
Information technology is full of daily worries: Making sure servers don't run out of space, monitoring the health and stability of all systems and double-checking data security.
These are activities you shouldn't have to worry about. The problem is that not all managed IT providers deliver this kind of support. They might show up after your server has run out of space or subsequent to a data security breach – but by then it might be too late for your business. Be sure to select managed IT services that take care of your daily worries before they become serious emergencies.
With low-level maintenance off your mind, your business doesn't encounter any interruptions in function or operations, keeping you rolling smoothly toward your growth-oriented goals.
Communication Points:
While many outsourced IT companies may promise these first two factors, the best IT firms should deliver even more value to your business. Since technology consultants work in the world of business IT, they should update you on current IT trends and keep your business constantly looking to the future. The innovative brain power they bring to your business should be enough to pay over and above for their service fees.
In addition, this communication extends to your support and succession planning. If your company transitions to new leadership or shuffles key positions, then your managed IT services shouldn't slip through the cracks. They should keep open the proper lines of communication so that everyone in your business is on the same page with your information technology strategy.
The right communication goes a long way in making sure your business doesn't encounter emergencies, stays on track with its goals and gains a competitive advantage.
High-Level IT Planning:
Even beyond daily peace of mind and regular communication, your managed IT services partner should be an integral part of making your business a success. Your technology consultants should understand your company's goals and integrate the right technology solutions to make those goals a reality.
For example, if you need to open up more branch offices for your business, then your outsourced IT partner should help you plan that process and provide the right IT infrastructure for that expansion.
Instead of just being IT support, your managed service provider should deliver technology-oriented leadership that focuses on growing your business and achieving your vision.
With the right managed IT services provider, the worries of information technology become a thing of the past. Rather, you get back to focusing on growth for your business – with a technology-oriented leader by your side.
Still have questions about how a managed IT services propels your business to its growth point? Click below to connect with a PointMan™.