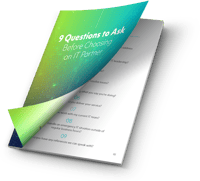 Nearly every facet of your business relies on technology that can't fail. Disruptions or solutions that aren't right for your business can lead to terrible IT. Terrible IT can put your business's revenue stream and reputation on the line.
Choosing the right IT partner who has the right services for your needs can prevent terrible IT.
But with more than 20,000 managed service providers (MSPs) in North America to choose from, even experienced IT professionals can become overwhelmed by the selection process.
We understand, which is why we created a guide that tells you which questions you need to ask to find an IT partner that's up to the task.
In this free guide, you'll learn:
The 9 questions you should ask to find the IT partner that can lead your business to strong, secure and strategic IT.
Which follow-up questions will help you dig deeper and get real answers from prospective partners.
What answers you should be listening for.
What signs you can use to identify that this might not be the right IT provider for your business.
It's easy to be wowed and overwhelmed by all the options and solutions for technology. These questions will help you narrow down your search find ultimately find the right IT partner to meet your needs.